Synopsis For Episode 6.16 of The Vampire Diaries: The Downward Spiral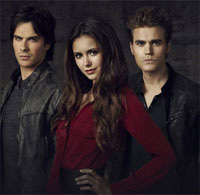 The CW has released a synopsis for episode 6.16 of The Vampire Diaries titled, The Downward Spiral. The episode is directed by no other than Ian Somerhalder.
IAN SOMERHALDER MAKES HIS DIRECTORIAL DEBUT — After shutting off her humanity following the death of her mother, Caroline (Candice Accola) gives her friends an unexpected ultimatum. Not knowing how to handle the new Caroline, Stefan's (Paul Wesley) attempt to intervene sets off a dangerous chain of events, leaving him and Elena (Nina Dobrev) in a race against the clock. Meanwhile, after seeking answers from Kai (guest star Chris Wood) about the prison world, Damon's (Ian Somerhalder) world is turned upside when he learns some devastating news about his mother Lily (guest star Annie Wersching). Elsewhere, Enzo (Michael Malarkey) finds himself becoming increasingly intrigued by Sarah Salvatore (guest star Tristan Mays), and Bonnie (Kat Graham) begins to struggle with the effects of being back in the real world.