Spoilers!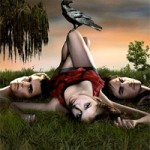 Spoiler via TV Guide:
Got any Vampire Diaries scoop? —Jessica
NATALIE: Look for another flashback before the season finale, this time to when Elena and her parents, whom we'll finally meet, crashed over the bridge. Don't worry; Stefan is there to save the day… at least, for Elena.
————————————————————————————————————————
Spoiler via E! Online:
Rebecca: Please tell me there is hope for Bonnie and Jeremy on The Vampire Diaries! Is Steven R. McQueen coming back?
You will see him again, but sadly, we're not too hopeful about a Bonnie and Jeremy rekindling. Kat Graham herself tells us this when asked if she's rooting for Bonnie and Jeremy: "I'm all about the character constantly evolving. [Executive producer] Julie Plec talks about the character having layers and anything that progresses [Bonnie] forward and you're able to see more dimensions, I think that's good. If it brings out a different side of Bonnie, then yes. If not, then let's just move on."

————————————————————————————————————————
Spoiler via TV Line:
Question: Got any more scoop about The Vampire Diaries' decade dance on April 26? —Amy
Ausiello: Two characters will share an intimate moment on the dance floor, and I predict Delena fans will not be swooning.