A Vampire Diaries Baby?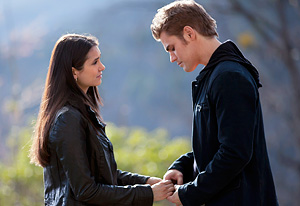 From TV Guide:
What are the chances of The Vampire Diaries' Stefan and Elena having a vampire baby as Bella and Edward do in Twilight: Breaking Dawn? — Ashley, via email
Ashley, your question confused the heck out of Paul Wesley (Stefan). "How do vampires have babies?" he asks. "Would the baby be a vampire? Is it born dead? Immortal? Do they come out with baby fangs? Do they stay that age?"
See what Nina had to say at TV Guide
Yeah I don't think a baby would fit in with the story do you?