TV Guide has given us our first look at a very cool looking Damon in the 1960's. In the April 24th episode of The Vampire Diaries titled, Man of Fire, we will flash back to the decade right after Damon escaped from the Augustine cell. Head on over to TV Guide to see what executive producer Caroline Dries has to say about the flashback.
Got a few interviews here for you with Candice Accola talking about tonight's episode of The Vampire Diaries. She talks about the arrival of the new baddie Markos, road trip with Enzo and more.
EW: 'The Vampire Diaries': Candice Accola on Steroline's 'raw' moment, Markos' arrival, and her road trip with Enzo
Zap2it: 'The Vampire Diaries': Candice Accola promises a 'strong' Caroline leading up to the finale, teases what's coming next
Access Hollywood: 'The Vampire Diaries': Candice Accola On Caroline's Road Trip
Nina Dobrev, Ian Somerhalder, Paul Wesley, Julie Plec and Caroline Dries dropped some hints about what's in store for season five of The Vampire Diaries at PaleyFest this Saturday. Head on over to THR to see what spoilers they had to share.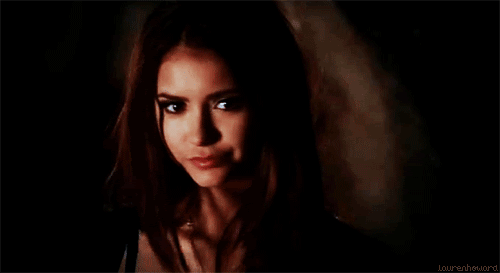 ______________________________________________________________________________
Zap2it posted an article with the greatest Katherine moments on The Vampire Diaries in GIF form. It's their way of saying good-bye to one of the greatest characters on the show! Check it all out here.
Got some Vampire Diaries scoop for you to enjoy. Check out the juicy spoilers below.
Spoilers via TV Guide:
Is there any chance Damon and Elena could be cured on The Vampire Diaries? — Karyn
A cure is a safe bet, but it won't come right away — which is bad news for anyone of the vamps in Damon's path. "He's just going to try to eat everyone," Ian Somerhalder tells me. Once Damon has wreaked havoc, however, someone else (read: a witch) will most likely save the day.
Scoop via TV Line:

Question: Any Vampire Diaries scoop? –Chery
Ausiello: I've got some good scoop, Chery — especially if you're a card-carrying member of Team Delena. Damon's ex-girlfriend may be infected and hungry for vampire blood, but that doesn't mean she's lost her libido. Ian Somerhalder tells TVLine there's going to be some major action between Damon and Elena this Thursday, or in his words: "There's some sexy time happening. Exes, man. What are you going to do?"
Collider chatted with actor Paul Wesley about producing and acting in the new film 'Before I Disappear'. He also chats about directing his first episode of 'The Vampire Diaries' and more.
See what he has to say here.
Below is an excerpt:
Because of your involvement with The Vampire Diaries, you got to try your hand at directing, by doing an upcoming episode. Was it nerve-wracking to be the boss on set, or did it give you confidence to know that you'd have everybody watching your back?
WESLEY: I was definitely nervous and I didn't know how I would be received, but it was really a heart-warming thing to see my cast wanting me to do well. They all came in and knew their lines. They wanted me to do well, and I wanted them to do well. I wanted to make them look good, and they wanted to make me look good. It was a really wonderful experience. I was so appreciative of everyone. The crew and the cast all really wanted me to have a good experience, and it was very touching.